Here's what it takes to have an envy-inducing kitchen that's bang on trend in 2017 – when the industrial look is all the rage.
1. Mysterious Navy Blues & Revitalising Greens
Make no mistake, grey kitchens are as fashionable as ever, offering a softer alternative to their stark black or white siblings. But when you want to inject colour into your kitchen, make it one of 2017's trendiest – a moody blue or Pantone's colour of the year, bright green. Both pair well with almost every colour, without shrinking your kitchen.
2. Mix metals for an industrial look 
Who says you have to stick to one metal for everything, from your kitchen taps to your drawer handles? Mix and match your metals in 2017. Couple trendy pewter, zinc or aluminium with warmer metals like bronze and gold to give your kitchen a simple and speedy, instant update. Only out-dated rose golds and high shine metals like brass are off limits here.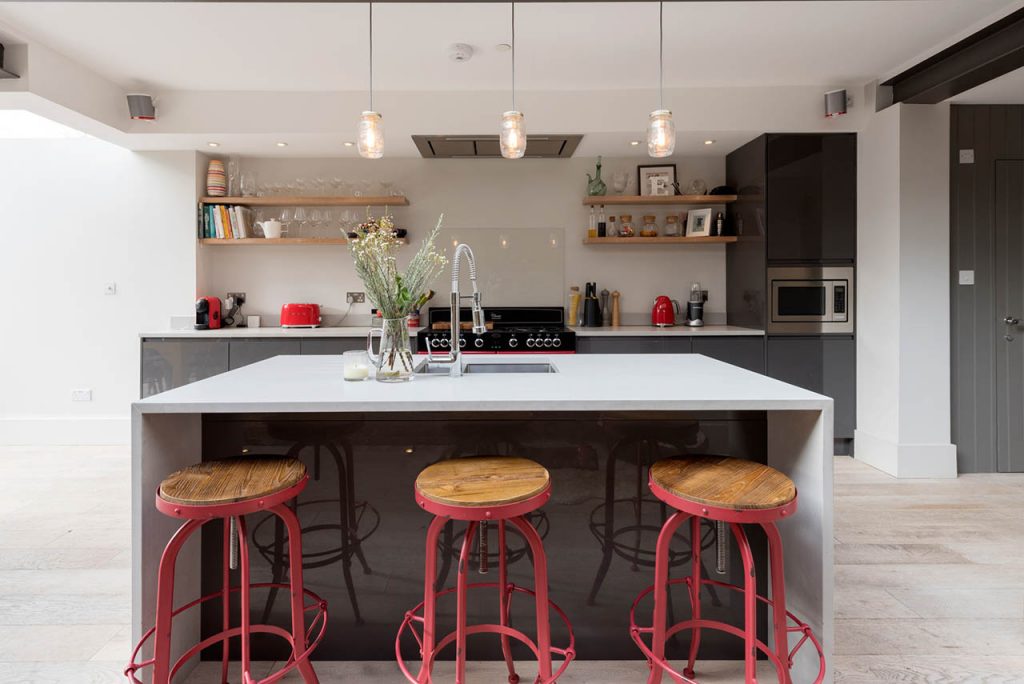 3. Embrace Mother Nature in every way
Bring as much of the outside into your kitchen as possible. Drench the room in natural light, add
decorative vases of fresh cut seasonal flowers. Pick kitchen cabinets built from recycled materials or ask your local kitchen fitter about natural timbers and dark woods to complement your marble counter top – another must-have in 2017.
Of course, it doesn't have to be the real deal, for example, faux ceiling beams won't rot or bow like real wood and you can't always tell the difference. Want more? You can go tropical with your accessories too, think exotic botanical prints on your dishes – like large-fronded ferns on your bowls. Alternatively, style your kitchen with chalky or bone white textured vases to create a sense of the natural and organic in your kitchen.
4. Preserve your precious square footage
If you don't ditch your oversized furniture in 2017, when will you? One of the biggest kitchen trends continues to be minimalism, so think extendable dining tables or space-saving stackable chairs. Do away with your cabinets altogether and have a single storage wall. Whenever you buy kitchen furniture this year, keep it matte and on trend, not glossy – which will date quicker.
5. Digital Everything
From the strength of your coffee to the colour of your toast, you can control your kitchen at the touch of a button on your smartphone apps. John Lewis predictsthat smart home cooking gadgets are going to be more popular than ever this year.