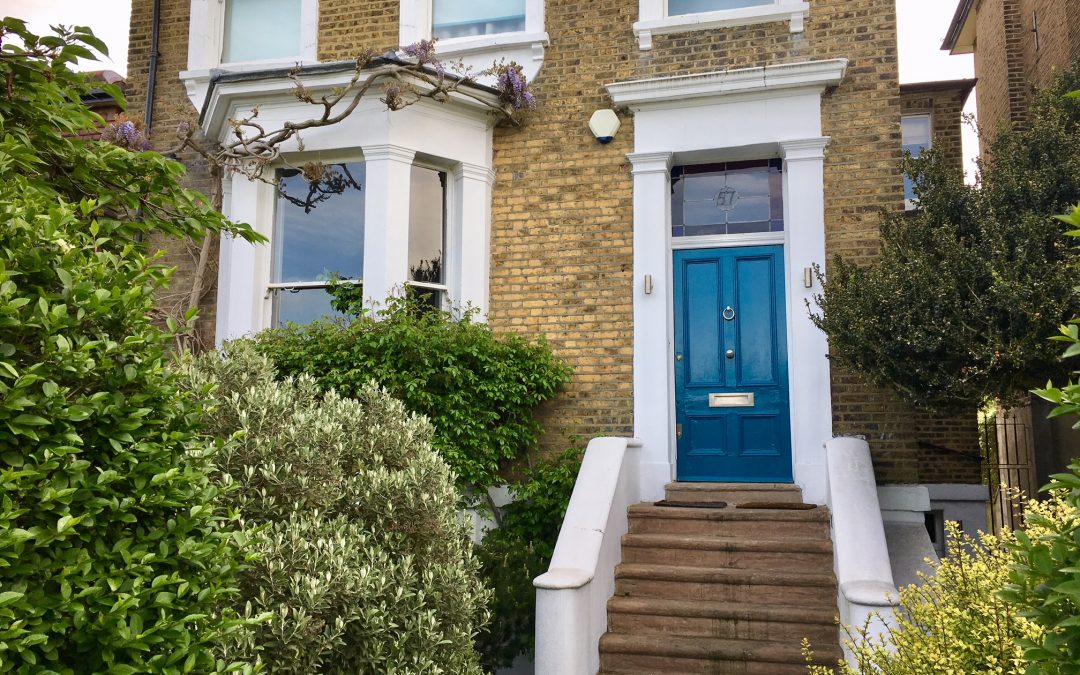 When people first arrive at your home they're greeted by your front door – the "face" of your home. The colour of your front door not only speaks volumes about your own personality but it can have added kerb appeal if you get it right. And when it comes to selling your home it's important to think about what might appeal to those potential buyers. Buyers can make their minds up within seconds of arriving and entering into a property. Presenting façade of your property perfectly provides that initial impact, the 'wow' factor.
Make a statement or play it safe?
Your front door could be the perfect way for you to express yourself with a bold, bright colour that you wouldn't necessarily use inside your home. Making a design statement with a bright colour that reflects your personality and fits in with the style of your home is the ideal. Research and plan the makeover, taking into account factors like the colour of your brickwork or exterior finish. Bolder colours work well with darker brickwork. Painting the front door and door frame the same colour will make the entrance look bigger.
You should also pay careful attention to the colour of your window frames. The style of your home will suit certain colours so experiment with colour swatches against the exterior walls to see just how the colour looks in reality. Farrow & Ball and Paint & Paper Library have a wonderful range of exterior door colours that could be just the inspiration you need to make your decision.
You should aim for an end result that not only complements you and your home, and if you're looking to sell your home, will create the perfect first impression for potential buyers too.
Simple is best
Creating a look for the front of your home that is symmetrical and balanced tends to work better visually. It's pleasing to the eye and draws focus to the central point of the house. With this in mind, you should aim for things like outdoor lighting, planters and any other features to be symmetrically spaced on either side of the front door.
The devil is in the detail
Kerb appeal doesn't end with your front door. Added features such as window boxes, planters or hanging baskets can be another attractive addition and create extra wow factor. Keep them looking stunning by making sure they're watered regularly and pruned properly to maintain their condition. If you aren't green fingered then using lanterns will achieve the same effect with minimum effort.
Other elements around the door such as letterboxes, knockers and doorknobs help complete the picture. You should aim to choose door furniture that matches the style of your home. A Victorian property will look complete with matching door furniture, whereas contemporary designs are much more relevant to a modern home. Getting it right brings the entire visual presentation together and creates a balanced look.
Top trends for 2018
According to an article featuring architect and TV's property expert George Clark, the future is incredibly bright in 2018 when it comes to front door colours! After years of popularity for more muted tones like grey or pale green, this year colour is the star of the show. It's all about lifting the entrance to your home with a splash of colour that makes a lasting impression.
The top 10 trends for 2018 are:
10. Duck egg blue
9.  Primrose yellow
8.  Cobalt blue
7. Grey
6. Bright yellow
5. Crisp white
4. Black
3. Light violet
2. Steel blue
1. Mid purple
For advice on colour and design that doesn't end with the front door, speak to Light intervention. Our experience with creating the perfect look for your home comes from over 18 years experience in architectural design and property development. We pride ourselves on delivering design solutions that are quick, robust and cost effective.