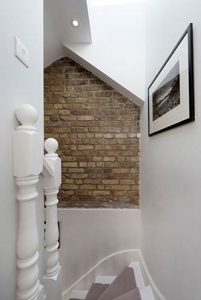 I hope I'm not about to jinx things but fingers crossed Spring is on its way, and with it comes the time of year when many of us turn our attention to home improvements. Loft conversions have year on year become increasingly popular, especially in London where properties are not only still in high demand but even with the down turn in the market, remain the highest in terms of value across the whole of the UK.
So for many property owners, heading upwards rather than moving out makes both economic and practical sense. The amount of money you can save on stamp duty alone can make it the most viable option if you feel you need more space.  There is also some comfort in staying in a property you love but making it even better.
Once you've made the decision to convert your loft space, achieving the best design for your space is key.
Here are our highlights to focus on when you're playing the conversion game:
Planning permission or no planning permission, that is the question! 
In most cases a loft conversion sits within what's known as "permitted development" and doesn't require planning permission. If you're extending or altering the roof space which causes the conversion to exceed specified limits and conditions, then you may need to go through the planning process. Conversions to flats does not fall under "permitted development" and therefore will require planning permission.
Don't let this put you off from designing your ideal space though. It could be worth going through the necessary channels to ensure that your loft conversion gives you the space that works best for you.
Remember that it's a one time investment so getting it right is paramount. Whatever you decide, the work will always need to meet current building regulations. The work is deemed to be a "material change of use" so minimum safety standards are required.
Maximising your loft space
There are a number of different options when it comes to loft conversions, each of which has their advantages (and disadvantages!)
Rooflight conversion: this uses skylights located within the roof itself and generally keeps within the existing roof structure. It tends to be the most affordable option but can mean the usable space is limited because the room is contained within the original roof height. You may end up with less usable space because so much of it won't be at head height.
Dormer window extension: this tends to be the most popular choice, albeit a more expensive one. The volume of the roof is increased allowing for vertical windows and doors, which creates full head room and more options when it comes to staircases. When added to the back of the house there is generally no need for planning permission but it may be needed for changes to the front elevation of the property.
Mansard loft conversions: these require the most construction work and in almost all cases will need planning permission because they change the existing roof structure of the property. They create the maximum amount of living space as they extend the entire roof space, the end result being the creation of a flat roof with the back wall sloping inwards at an angle of 72 degrees.
To make the right decision, think about the ultimate purpose of the space. Is it going to be a new bedroom (or two) in which case you'll need a bathroom up there too. If that's the case, the location of existing plumbing in the house can have a big impact on the cost in terms of where to locate your loft bathroom. And it's also worth remembering that the loft space is at the top of the house so heating and ventilation is key to avoid being too hot in the summer and warm enough in the winter.
Time to call in the experts!
When it comes to the design of your loft conversion there are two main options: you can either engage an architect to produce drawings of the project, creating a bespoke design to exactly match your needs. Alternatively you could choose a design and build loft conversion specialist that will have their own in-house designer and engineer in their team. They tend to call upon standard design details and solutions to create your space. Both options will ensure all legalities and regulations have been covered within the design. They will both be able to make recommendations according to the specific nature of your property – considering elements such as the need for Party Wall agreements with your neighbours, lowering ceilings and any issues with head height above staircases. You'll ultimately have the peace of mind that your project covers all angles.
With both options however, never be afraid to push the boundaries and make the space work for you and have the wow factor.
Nailing those practicalities
Designing a loft space is much more than simply creating a new usable space in your home. Think about some of those practicalities that will be so important once it's in place and being used every day. Where will the staircase be positioned? This is vital as the correct design will have the least impact on your storey below. Will the space need extra soundproofing? Just remember that its original purpose was for storage so installing extra soundproofing may be a wise move, especially if the room below will be someone's bedroom. Think very carefully about areas you may not even have considered: where is best to place the radiators? How many electrical plug sockets do you need? What are your lighting choices? It's one of the few times you get to choose and design these elements yourself so put real thought into just how you will be using the space.
Going bespoke for maximum effect
The best way to utilise all the nooks and crannies within your new loft conversion is to bring a carpenter on board to design wardrobes and storage cupboards that fit exactly within the dimensions of the space available. You may also need to consider space saving options when it comes to bathroom furniture, investing in smaller hand basins and baths to fit into a confined space. An excellent way to maximise natural light is to incorporate transparent materials or pocket doors into the design.
Light Intervention offers an architectural design service which can assist you with all the above and give you options and ideas on how best to utilise space and give it that wow factor.